Face coverings to become mandatory on public transport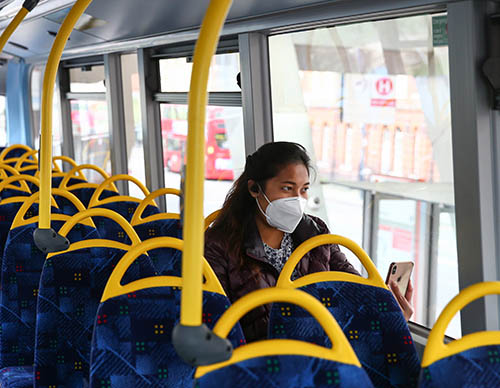 From 15 June, face coverings will be required while using public transport in England.
The government will work with operators to make it mandatory for passengers to wear face coverings when using public transport in England, the Transport Secretary Grant Shapps announced today (4 June 2020).
Wherever possible people should continue to avoid public transport and walk, cycle or drive, but for some people this may not be an option. Transport usage has been slowly increasing, including on the tube which has seen around a 20% rise this week compared to last week.
When necessary to use public transport people may be more likely to be in enclosed spaces for longer periods of time where we know there is a greater risk of the spread of the virus and social distancing is likely to be difficult to follow consistently. This differs from enclosed spaces like shops, for example, where people can more easily go outside if social distancing is not possible and where shop owners can place limits on the number of customers allowed inside at any one time. The Scientific Advisory Group for Emergencies (SAGE) has set out that using face coverings in this setting can provide some small additional protection to fellow passengers and can help people to avoid unknowingly spreading the virus if they are suffering from coronavirus, but not showing symptoms.
Revealed: The most expensive places in Berkshire to dispose of garden waste
f
Every council in Berkshire bar one charge more than the national average for green bin collections, it has been revealed.
In Berkshire, every council apart from Slough Borough Council charges an annual fee for the service – and those that do charge more than the UK average of £41.22 per year. This usually involves fortnightly collections throughout the year. Extra charges usually apply if the customer requires a bin delivery.
Windsor and Maidenhead Royal Borough Council is the most expensive as an annual fee, charging £65 a year for the service follow by Reading Borough Council and Wokingham District Council with £60
West Berkshire and Bracknell Forest Councils both charge £50 a year.
Slough Borough do not charge an annual fee for the service.
Collection of garden waste is not currently a statutory service, and it is up to each local authority to decide.
"Reading gardeners are increasingly being punished with a quiet green-garden tax which seems to go against every other positive environmental initiative that the council is trying to promote."
New rules for Royal Berkshire Hospital visitors
Royal Berkshire Hospital announced a number of new rules designed to keep patients, staff and visitors safe amid the ongoing coronavirus pandemic.
As the stricter lockdown measures against the virus are eased and the UK's death rate declines, the hospital said they were easing earlier restrictions on visitors and face-to-face appointments.
The new rules were announced in their website as follows:
"In line with government guidance, all staff must wear a face mask when on site and all patients and visitors should wear either a face mask/covering for the duration of their visit. If you are able to, please bring a mask/covering with you or ask a member of staff who will be happy to assist. Thank you for helping us reduce the spread of the virus.
We are doing all we can to reduce the spread of coronavirus (COVID-19) and protect our patients, staff and volunteers.
The latest visitor guidance for staff, family and friends (updated 10 June 2020) is as follows:
What to expect when visiting a patient at the Royal Berkshire Hospital:
Only ONE visitor per patient at any one time.
We encourage only essential visits, e.g. for patients at the end of life or those with dementia or a learning disability.
Please arrange this visit with the ward manager or nurse in charge.
In order to maintain social distancing rules, you may not be able to visit every day
Familiar carer/supporter/personal assistants will not be counted as an additional visitor.
If possible, please stay in touch with the patient by iPad/mobile
PLEASE DO NOT VISIT if you have any symptoms of the virus (high temperature, new continuous cough, loss of taste and smell).
All visitors must wear a face covering/mask inside the hospital buildings – please bring your own if you have one. Do not bring any other unnecessary belongings with you.
We understand that this is difficult for lots of people, but it's very important that we follow the guidelines.
Please follow social distancing rules and wash your hands before entering and leaving the building, and use the alcohol hand gel frequently inside the building.
Further information about visiting, please click here.
Maternity
What to expect when supporting a woman during Induction of Labour, and Elective Caesarean Section (C-Section)
Only one birth partner can support a woman during, Induction of Labour, labour or a Caesarean section. The birth partner must be well, without symptoms of Coronavirus and not tested positive for Coronavirus in the last seven days.
It is safest to travel to hospital by private car or taxi. You can use public transport if you have no Coronavirus symptoms. If you need help with arranging transport to the hospital, please telephone our Patient Relations Team for advice on 0118 322 8338.
Do not bring any unnecessary belongings into hospital with you.
You must wear a face covering/mask, use hand sanitiser when you arrive and leave the ward. Please wash your hands with soap and water regularly during your stay.
Only leave the Induction of labour room, birthing room or recovery area if essential. Please bring plenty of food and drink for the duration of your stay.
Please work with the healthcare staff to maintain social distancing whenever possible.
After birth, it may be necessary for some women to stay on the postnatal ward. Birthing partners will need to return home when the times comes for the women to move to the postnatal ward.
There is no visiting on the antenatal or postnatal wards.
The healthcare staff will be wearing protective equipment, such as face masks, aprons, gloves and visors.
For a copy of the Covid visiting charter for Maternity please
click here
.
Reading Pride 2020 cancelled
The ongoing restrictions surrounding the coronavirus pandemic has resulted in Reading Pride being cancelled.
The colourful occasion which was due to take place this year on September 5 has been rearranged for September 4 2021.
The Pride team acknowledged this was not the news they were hoping to share this year, but are committed to keeping people safe.
In a statement released on their website they spoke of their sadness at being unable to bring the event to the city once again:
"The Chair and Trustees of Reading Pride have taken the decision not to proceed with the Love Unites festival hosted by Reading Pride, in its normal form in Kings Meadow, which was scheduled to take place on Saturday, 5th September 2020.
The safety of our attendees and volunteers is our primary concern. Running a large festival and implementing social distancing measures in an open space was not considered safe nor feasible.
Discussions are ongoing to assess the feasibility for different types of events, to take place this year, and based on the outcome of these assessments, further information will be shared in due course.
We understand that this will be disappointing to many people, but we ask for your understanding in the current circumstances and hope that everyone is looking after themselves and staying safe."