Face coverings to become mandatory on public transport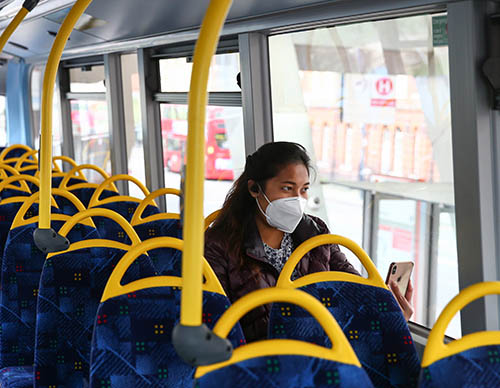 From 15 June, face coverings will be required while using public transport in England.
The government will work with operators to make it mandatory for passengers to wear face coverings when using public transport in England, the Transport Secretary Grant Shapps announced today (4 June 2020).
Wherever possible people should continue to avoid public transport and walk, cycle or drive, but for some people this may not be an option. Transport usage has been slowly increasing, including on the tube which has seen around a 20% rise this week compared to last week.
When necessary to use public transport people may be more likely to be in enclosed spaces for longer periods of time where we know there is a greater risk of the spread of the virus and social distancing is likely to be difficult to follow consistently. This differs from enclosed spaces like shops, for example, where people can more easily go outside if social distancing is not possible and where shop owners can place limits on the number of customers allowed inside at any one time. The Scientific Advisory Group for Emergencies (SAGE) has set out that using face coverings in this setting can provide some small additional protection to fellow passengers and can help people to avoid unknowingly spreading the virus if they are suffering from coronavirus, but not showing symptoms.
Battle Library Reopens next week!
Battle Library reopens next week! The library is due to reopen next Tue 6 April, initially for 9 hours per week (Tuesday 1-5, Friday 10-12, Saturday 10-1).

Working in line with current national safety guidance, from 6 April, Battle Library will offer:

📚 Returns – to entrance when the library is open, book drop when closed.
📗 Order and collect (book online at https://www.reading.gov.uk/leisure/libraries/libraries-reopening/ or via 0118 937 5950) – you can order specific or a general collection of items
💻 Limited computer bookings (via 0118 937 5950)

Visitors to the library will be reminded to follow safety precautions, including the wearing of masks inside the building and for the use of computers, test and trace registration will be required.

They will look to continue the planned phase of reopening of wider library services where possible and with safety at the forefront of all our plans. The Library Service hopes to confirm the reopening details for its other branch libraries at Whitley, Southcote and Palmer Park shortly.

Book drops are currently available at Central, Caversham – and shortly at Battle library – and no fines are being charged.

The Library Service's popular e-service continues to be available. Over the past year, we have had 2,623 people join the service and They've issued a staggering 65,000 eResources!
Banksy's artwork appears on side of former Reading Prison
A piece of graffiti painted by Banksy has appeared overnight on the side of Reading Prison.
In the early hours of Monday (1 March) morning, the artwork was spotted on the side of the now-closed institution.
It shows a man dressed in a striped prisoner's uniform scaling the side of the building on a knotted rope.
Beneath the man, the chain is shown to be made of paper and coming out of a typewriter.

Banksy has named the piece 'The Create Escape'.

In a video featuring TV artist Bob Ross, the Bristol-based artist – whose identity is a closely guarded secret – shows how he created the painting.
please see below.
Some have speculated that the man is meant to represent Irish poet Oscar Wilde, who was imprisoned at the jail from 1895 to 1897 on charges of gross indecency with other men.
A campaign was recently launched to save the Grade II listed building after it was closed in 2014.
RBC highest agency manager has a day rate of £975
Revealed by the "The Reading Chronicle", concerns have been raised about the money spent on agency & temporary staff.
The highest agency manager at the RBC has a day rate of £975, one temporary manager at the children's services company Brighter Futures for Children (BFfC) has been working for 24 months, this are two examples among others.
One former RBC contractor who want to remain anonymous said the headline fees skew the reality. "Overall, contractors cost a similar amount to permanent employees as there are no benefits like pensions and paid holidays. On top of that many live far away from Reading, as it was my case, and have to pay for travel and sometime accommodation out of their rate," he said.