Residents angry at mowing of Tofrek Terrace park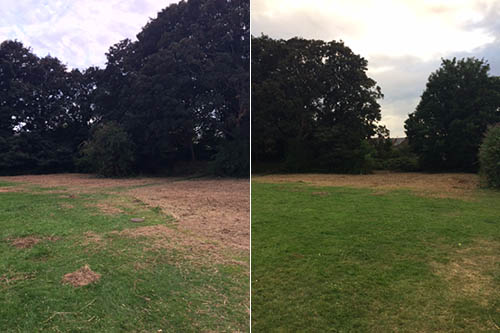 The council has been accused of an act of "wildlife vandalism", by some angry residents in Reading west.
The park on Tofrek Terrace behind Wilson Primary School is a lovely quite place where locals from all ages, relax in summer while kids run around picking up some blackberries or kicking a ball.
It seems that the mowers may have moved in on Tofrek Terrace few days ago, hacking away the blackberries bushes and naturally-seeded wildflowers the height of summer.
An angry resident said on twitter , "@ReadingCouncil the park on Tofrek Terrace behind Wilson Primary School used to have some great blackberry bushes but I've come with my son today and its all been cut down? Any reason why?"
Another resident said "Wilson Rd Playing Field, Reading – any reason the scrub had to be cut down now and not left till the wildlife had finished using it for the summer? "
Reading Borough Council was unavaible to comment.
Reading's Christmas lights 2020
Reading's Christmas lights come on from Saturday 21 November. The centrepiece is a dazzling natural Christmas tree in Broad Street. Across the town centre there are over 400,000 twinkling lights, making Reading one of the largest displays in the south east.
The lead up to Christmas officially begins in Reading this weekend as the lights are switched on around the town.
---
Important Notice
Reading, like the rest of England, is currently operating under new national COVID-related restrictions from 5 November – 2 December. This means that people MUST:-
Stay at home, except for specific purposes.
Avoid meeting people you do not live with, except for specific purposes.
Close certain businesses and venues
These restrictions mean that it is not possible to visit Reading for the time being. We hope to be able to welcome you in December and throughout 2021. Please enjoy the information on these pages to help you plan a future visit and check back regularly to see if the situation has changed.
Don't be daft – we don't need to ban fireworks
Some of your happiest memories when I was a child were at family or school fireworks displays. Freezing cold, eating jacket potatoes, sparklers in hands and 'oo-ing' and 'ah-ing' over the pretty explosions which lit up the inky, night sky.
Whether you called it Guy Fawkes Night or Bonfire Night, November 5 was one of the few times each year we got together with family and friends.
Now you are older, with a rescue dog, cat or a child who has always been sensitive to loud noises, you are less keen on the night.
Especially as it no longer lasts just one evening but fireworks can generally be heard from now until January. But an outright ban, or even allowing them only at official events is nonsense.
At the moment, thosands of people have signed a petition to ban fireworks in public – which means the government will have to respond.
I won't call these people fun police or killjoys as some people have, I can see why they want to put restrictions on fireworks displays.
As they say themselves, they 'cause alarm, distress and anxiety to many people and animals'.
What is needed instead though is better education on the danger of fireworks, tougher penalties for those misusing them and police cracking down on those who flout the rules, particularly those who give/sell them to under 18s.
If organising a garden display, just be a considerate human being.
Make sure your neighbours are aware, perhaps even invite them over.
It's easy to let people know – most of us are on social media and there are plenty of local noticeboards you can post on to let people know if you plan to let fireworks off for a lengthy amount of time.
If not, knock a few doors, particularly if you have elderly neighbours and those with children or pets.
Choose low noise or quiet fireworks (yes, they do exist) as well as follow safety advice and take precautions before setting them off.
And don't be a git and let them off past 11pm.
If we all followed these general rules it would probably help a lot.
Banning things rarely has the desired effect and will only mean that a 'black market' will open up which will make it even more dangerous and fireworks more likely to fall into the hands of youngsters and those who would act irresponsibly.
People point to the environmental damage caused by fireworks – perhaps then a green tax should be introduced to pay towards offsetting the damage caused?
And there are plenty of things which are more dangerous and/or cause more environmental damage than fireworks such as cars, dairy farming – should we also ban them?
We all have to live with things which annoy or upset us but we can't go around and ban everything that upsets someone.
Sixth Oxford Road shop faces alcohol licence review
The police crackdown on newsagents and off licences in Oxford Road, Reading has continued, with a sixth store now facing a licence review.
Willis & Short Newsagents at 341 Oxford Road West Reading is the latest shop to be added to the list of off licences under review in the town.
As all other shops, Thames Valley Police (TVP) submitted this application for review in order to address the failure of the premises licence holder to promote the licensing objectives via their insufficient measures to ensure due diligence and full reasonably expected compliance of their licence conditions.
So far five Oxford Road shops are currently having their licences reviewed by Reading Borough Council:
Anrish News, no. 102
Today's Express, no. 107
I&R Convenience, no. 202
Butts Convenience Store, no. 205
K B Superstores, no. 337