Anger over 30mph speed limit drop at Portman Rd
As we mentioned back in September, Portman Rd has reduced the speed limit



Reading west motorists are angered by the Reading Council's decision to lower the speed limit at Portmand road, where the 40mph limit has been replaced by a 30mph limit.
All the 40mph signs located at Portmand road has been removed but not replaced with 30mph which is giving drivers mixed messages about the correct speed limit on the road causing many being fined.
Some drivers have expressed concern there is no indication the speed limit has changed or signs highlighting the changes.
"why wasn't the temporary signage put up when the 40 signs taken down?
Allowing time for drivers to adjust?? So, why was there a police speed camera on Portman Road yesterday??"
"How are people supposed to know this who don't have social media to say so? It's a very confusing situation… what exactly is the time allowed for adjustment? What speed are the camera's enforcing? In my view this transition has been very poorly organised."
"@ReadingCouncil so it would appear that you delightful bunch have reduced Portman Road from a 40mph limit to a 30mph limit. Where are the signs on the road indicating that this has changed? That is proper sneaky!!!! There's a reason everyone has such a low opinion of you lot"
A council spokesman previously told us: "Portman Rd is now the national urban speed limit of 30mph, by virtue of the fact the 40mph signs have been removed. Only limits other than 30 are signed in urban areas. We will however put temporary signage in shortly. As with any speed change, time allowed for drivers to adjust."
As of today we have not seen any temporary signage at Portman Rd.

As another motorist told us this transition has been very poorly organised."
Climate Emergency: Reading Borough Council not commit to double its tree count
We're facing a climate emergency but Reading Borough Council won't commit.
Reading Borough Council has NOT committed to increasing biodiversity in the town and last night we found out that we won't join Oxford, Bristol, Bath and others and commit to doubling tree cover.
Trees help to protect the climate, improve air quality, support more wildlife, reduce flood risk and improve people's well-being. This briefing, compiled by Friends of the Earth's Trees campaigning team, details how councils can access land and money to double local tree cover.
In order to tackle the climate emergency and reach net zero emissions as early as possible, the UK needs to double woodland cover, according to research by Friends of the Earth and the Centre for Alternative Technology.
By publicly supporting a target to double local tree cover, councils can send a strong signal to the government to unlock more funding for trees, and encourage local landowners to grow more trees.
Many local authorities – including rural and urban councils controlled by the Conservatives, Labour, the Liberal Democrats and the Green Party – have already publicly announced a goal of doubling local tree cover and are devising plans to access money and land to deliver it. Here are a few examples:
Bath & North East Somerset has announced plans to double woodland cover across the district.
Bristol City Council committed to double tree canopy cover by 2045 as part its One City Plan .
Hackney Council has plans to double on-street canopy cover and plant 30,000 trees in parks and green spaces.
Leeds City Council approved a report calling on tree canopy cover to be almost doubled across the local authority area.
Oxford City Council has publicly supported doubling tree cover across Oxfordshire.
South Gloucestershire has pledged to double tree cover by 2030 by working with landowners across the local authority area.
Wirral Council has pledged to "at least double Wirral's tree coverage by 2030".
Call on your councillors to double tree cover
Councils often control large expanses of land with plenty of space for more trees. So will you ask your councillors to commit to doubling tree cover in your area?
Please click the link below & fill the form, it'll only take a minute. You can personalise it if you want to have even more impact.
Call on your councillors to double tree cover
Let's double tree cover and create a better future for people and wildlife.
The millions of pounds of parking profits Reading Council has made in just one year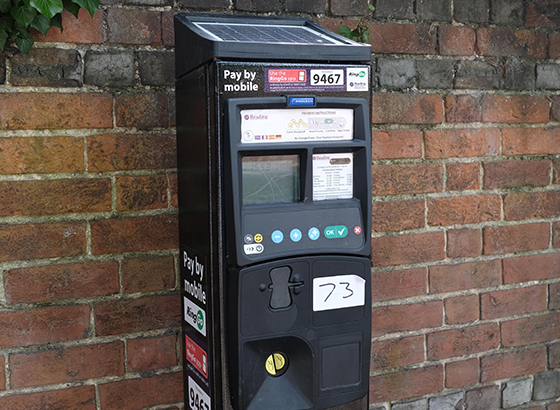 Many local authorities see drivers as a "wallet on wheels", and has accused some councils of using parking fees to plug budget gaps according The AA.
The new figures from Ministry of Housing, Communities and Local Government data may seems to verify that statement.
| Berkshire authority | Total expenditure | Total income | Net income |
| --- | --- | --- | --- |
| Reading | £3,623,000 | £8,230,000 | £4,607,000 |
Reading council raked in more than £4 million in parking profits last year.
Off-street parking, such as council-run car parks, made the most profit last year, at £2.7 million.
The rest came from on-street parking.
Total income from both on- and off-street parking activity was £8.2 million in 2018-19.
Total expenditure was £3.6m. Additionally, councils may incur interest payments or depreciation on their capital assets such as car parks, though this is not accounted for in these official figures.
The difference between the two – £4.6m – is the surplus or profit.
This is 6% more than the £4.0m made in the previous financial year (2017-18). It is also 11% higher than the £782m surplus that the councils themselves had budgeted for.
Parking charges in Reading went up this year, as the council took back control of eight car parks from operator NCP.
Reading Borough Council is also ending free parking in various streets around the town, which has been met with chagrin by drivers.
And it issued a total of 48,240 penalty charges in 2018/19.
Changes to residency checks at the Recycling Centres as of February 2020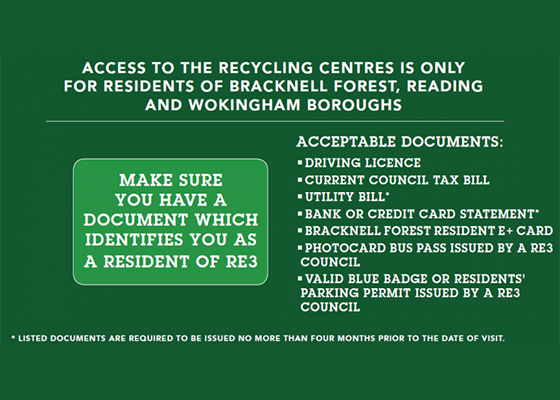 Make sure to bring proof of residency when visiting re3 Recycling Centres
As of 1st February 2020, residents visiting re3 Recycling Centres will be required to present a document that identifies them as residents of the re3 area: Bracknell Forest, Reading or Wokingham Boroughs. Residents are urged to note that the windscreen stickers will no longer be accepted as proof of residency.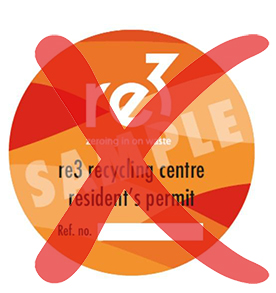 The re3 windscreen stickers were introduced in 2016 to enable Meet and Greet staff to positively identify resident of Bracknell Forest, Reading and Wokingham Boroughs. They were issued to over 180,000 households but any residents who moved to the area at a later stage or lost their permit have been asked to bring an alternative proof of residency instead.
The windscreen permits are already being used by fewer visitors and, to save the cost of reprinting and distributing new permits, the councils are asking residents to use commonly held documents to demonstrate they are from the re3 area.
Full list of acceptable forms of ID as of 1st February 2020:
Driving licence
Current council tax bill
Utility bill, bank or credit card statement (issued no more than four months prior to the date of visit)
Bracknell Forest resident e+ card
Photocard bus pass issued by a re3 council
Valid blue badge or residents' parking permit issued by a re3 council