Changes to residency checks at the Recycling Centres as of February 2020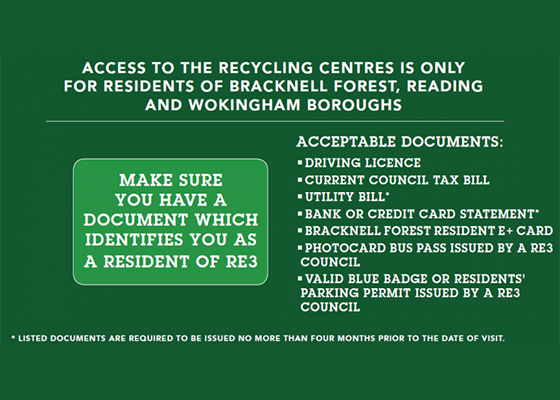 Make sure to bring proof of residency when visiting re3 Recycling Centres
As of 1st February 2020, residents visiting re3 Recycling Centres will be required to present a document that identifies them as residents of the re3 area: Bracknell Forest, Reading or Wokingham Boroughs. Residents are urged to note that the windscreen stickers will no longer be accepted as proof of residency.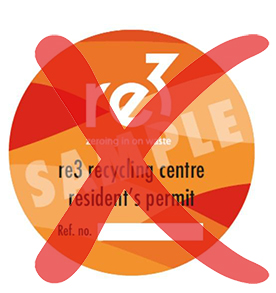 The re3 windscreen stickers were introduced in 2016 to enable Meet and Greet staff to positively identify resident of Bracknell Forest, Reading and Wokingham Boroughs. They were issued to over 180,000 households but any residents who moved to the area at a later stage or lost their permit have been asked to bring an alternative proof of residency instead.
The windscreen permits are already being used by fewer visitors and, to save the cost of reprinting and distributing new permits, the councils are asking residents to use commonly held documents to demonstrate they are from the re3 area.
Full list of acceptable forms of ID as of 1st February 2020:
Driving licence
Current council tax bill
Utility bill, bank or credit card statement (issued no more than four months prior to the date of visit)
Bracknell Forest resident e+ card
Photocard bus pass issued by a re3 council
Valid blue badge or residents' parking permit issued by a re3 council
The millions of pounds of parking profits Reading Council has made in just one year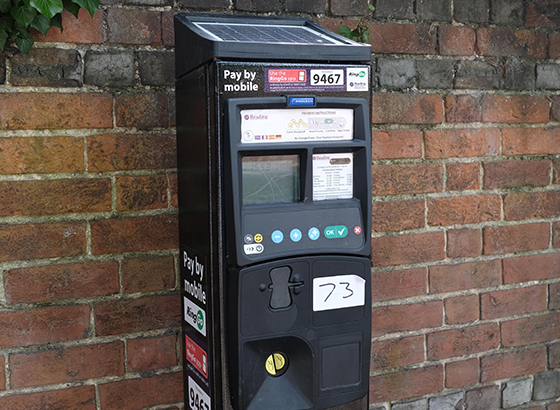 Many local authorities see drivers as a "wallet on wheels", and has accused some councils of using parking fees to plug budget gaps according The AA.
The new figures from Ministry of Housing, Communities and Local Government data may seems to verify that statement.
| Berkshire authority | Total expenditure | Total income | Net income |
| --- | --- | --- | --- |
| Reading | £3,623,000 | £8,230,000 | £4,607,000 |
Reading council raked in more than £4 million in parking profits last year.
Off-street parking, such as council-run car parks, made the most profit last year, at £2.7 million.
The rest came from on-street parking.
Total income from both on- and off-street parking activity was £8.2 million in 2018-19.
Total expenditure was £3.6m. Additionally, councils may incur interest payments or depreciation on their capital assets such as car parks, though this is not accounted for in these official figures.
The difference between the two – £4.6m – is the surplus or profit.
This is 6% more than the £4.0m made in the previous financial year (2017-18). It is also 11% higher than the £782m surplus that the councils themselves had budgeted for.
Parking charges in Reading went up this year, as the council took back control of eight car parks from operator NCP.
Reading Borough Council is also ending free parking in various streets around the town, which has been met with chagrin by drivers.
And it issued a total of 48,240 penalty charges in 2018/19.
Elizabeth Line: Reading-London Paddington services start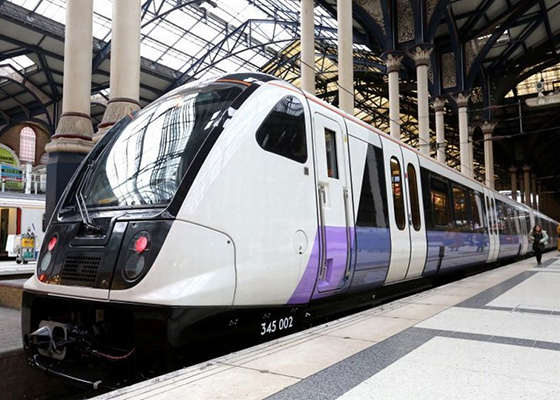 Crossrail is here! or at least part of it, train services have now begun on the Elizabeth line between Reading and London Paddington.
TfL Rail now runs stopping services on the route after taking over from Great Western Railway (GWR).
The Elizabeth line, part of TfL's Crossrail project, when fully open will connect Reading and Heathrow in the west, through central London, to Shenfield and Abbey Wood in the East.
Transport for London have advised customers departure times could change.
GWR will continue to run some fast services between Reading and London Paddington
Currently the Elizabeth Line is not open between London Paddington and Liverpool Street, and Whitechapel and Abbey Wood.
Do you know who exactly you are voting for? Watch this space….
Another general election is almost upon us and the majority of the candidates have already been announced ahead of Thursday's deadline.
As most of us know, the general election takes place next month, on December 12. What you may not know, and this is important, is that there will be two elections in Reading, with the town and surrounding areas split into two constituencies. Please note, in this article, we are endeavouring to maintain neutrality – a neutrality which, of course, a writer rarely really feels….
Reading East includes wards in Reading (Abbey, Caversham, Church, Katesgrove, Mapledurham, Park, Peppard, Redlands, and Thames) and Wokingham (Bulmershe and Whitegates, Loddon, and South Lake).
And our fab Reading West, which includes wards in Reading (Battle, Kentwood, Minster, Norcot, Southcote, Tilehurst, and Whitley) and West Berkshire (Birch Copse, Calcot, Pangbourne, Purley on Thames, Theale, and Westwood).
Below are the main candidates for Reading West…
Alok Sharma, Conservative
Alok Sharma (born 7 September 1967) is a British politician, serving as the Secretary of State for International Development since July 2019. He was elected in 2010 as the Conservative Member of Parliament for Reading West.
Sharma previously served as Housing Minister between 2017 and 2018, and as Employment Minister from 2018 to 2019.
Sharma is married and lives in Caversham with his wife and two daughters. His wife is Swedish.
Jamie Whitham, Green Party
Jamie Whitham is the Green Party candidate in the constituency of Reading West in the UK Parliament elections.
Jamie was born in Reading in 1974 attending Coley Park Primary School for a number of years from 1978. After a spell away from Reading in the 1980s he returned in 1995 to study Cybernetics and Control Engineering at The University of Reading.
Jamie joined the Green Party in 2010 after helping Reading's first Green Councillor Rob White, to be elected.
In 2012 Jamie was elected as the third Green Party councillor on Reading Borough Council. During his four years on the council he sat on the Traffic Management Sub-Committee, Planning Applications Committee, Cycle Forum, Strategic Environment Planning & Transport Committee as well as others.
Jamie is a keen cyclist having recently completed a ride from the equator just north of Quito in Ecuador all the way to Ushuaia at the southern most tip of Argentina. We have to say, knowing this territory to some degree, that this is really, but really far…
Meri O'Connell, Liberal Democrat
Meri has a background in public service, working in children's homes and as a Youth Justice Worker, helping young people find employment and training opportunities.
Elected as a councillor to Reading Borough Council in 2012, her campaigns have included making Tilehurst Triangle safer for pedestrians, and opposing the closure of the Arthur Clarke care home, where she successfully persuaded the council to ensure the land would only be used for elderly care.
Mr Sharma won 48.9 per cent of the vote in 2017, beating Labour challenger Olivia Bailey by just under 3,000 votes which makes this election much closer. One thing is – who ever you stand for (and think hard about your values and what kind of future you want for your country and all of it's people), do make sure you vote!
Rachel Eden, Labour and Co-operative
Labour and Cooperative parliamentary candidate for Reading West constituency.
She is a councillor for Whitley ward, Reading and the lead councillor on Reading Borough Council for Adult Social Care.
Rachel Eden has experience of standing as a parliamentary candidate, after unsuccessfully fighting the Tory seat of Wantage last year is back this time moving to Reading west.
Watch this space for more, as we find out more through our investigations, on the above candidates! We will tell you the truths and facts that we find out, in what promises to be a rather, murky and manipulated election.