Reading 'red route' to be made permanent from 17th November 2019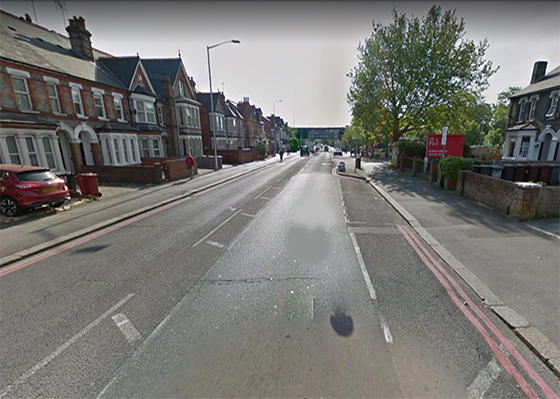 Thousands of fines have been fined since red routes were introduced over a year ago in Reading.
The routes, which are marked with double red lines, forbid motorists from parking or waiting on certain roads.
The scheme was piloted in Reading 2018 to speed up journeys across the town for the number 17 bus.
Oxford Road, several other roads & streets in Reading west are covered by red routes.
Many business owners and customers in Oxford road have objected to the road becoming a red route as they were concerned about the impact on trade.
Councillors agreed to make the west side of the route permanent in September, and it will now come into force on Sunday. 17th November.
Below are the roads in west Reading where you can be fined for stopping. Varied restrictions are in place on specific sections on each road.
There are also some roads listed where you can stop but cannot wait – e.g. you can drop off or pick up a passenger.
Most of the restrictions are 24/7 but some are at certain hours of the day.
Some roads have multiple restrictions. For example, Oxford Road has eight different types of restriction.
Full details of the types of restrictions and which parts of the road they are on are available on the council website here.
Roads on west side of red route:
Albany Road
Alfred Street
Alma Street
Argyle Street
Armour Road
Beecham Road
Belmont Road
Beresford Road
Berkshire Drive
Birch Avenue
Bloomfield Road
Blundells Road
Brock Gardens
Chapel Hill
Chester Street
Church End Lane
Cranbury Road
Connaught Road
Constitution Road
Corwen Road
Downing Road
Dunstall Close
Edinburgh Road
Elm Park Road
Eston Place
Gordon Place
Gower Street
Grovelands Road
Howard Street
Kensington Road
Kentwood Hill
Lawrence Road
Links Drive
Little John's Lane
Lorne Street
Mayfair
Norcot Road
Pangbourne Street
Park Lane
Pottery Road
Prospect Street
Recreation Road
Russell Street
Salisbury Road
Shaftesbury Road
St. George's Road
Tidmarsh Street
Trinity Place
Recreation Road
Romany Lane
School Road
Tidmarsh Street
Valentia Road
Wantage Road
Waylen Street
Western Elm Avenue
Westwood Road
Wilson Road
Zinzan Street
The millions of pounds of parking profits Reading Council has made in just one year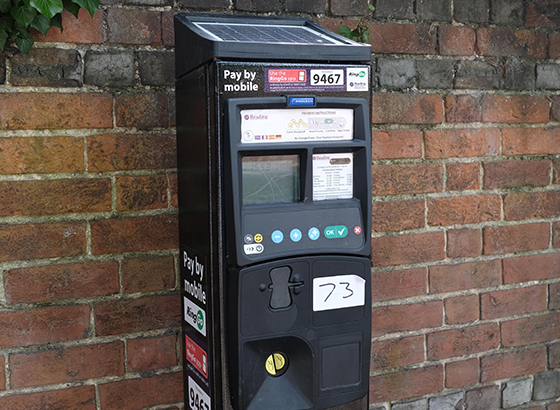 Many local authorities see drivers as a "wallet on wheels", and has accused some councils of using parking fees to plug budget gaps according The AA.
The new figures from Ministry of Housing, Communities and Local Government data may seems to verify that statement.
| Berkshire authority | Total expenditure | Total income | Net income |
| --- | --- | --- | --- |
| Reading | £3,623,000 | £8,230,000 | £4,607,000 |
Reading council raked in more than £4 million in parking profits last year.
Off-street parking, such as council-run car parks, made the most profit last year, at £2.7 million.
The rest came from on-street parking.
Total income from both on- and off-street parking activity was £8.2 million in 2018-19.
Total expenditure was £3.6m. Additionally, councils may incur interest payments or depreciation on their capital assets such as car parks, though this is not accounted for in these official figures.
The difference between the two – £4.6m – is the surplus or profit.
This is 6% more than the £4.0m made in the previous financial year (2017-18). It is also 11% higher than the £782m surplus that the councils themselves had budgeted for.
Parking charges in Reading went up this year, as the council took back control of eight car parks from operator NCP.
Reading Borough Council is also ending free parking in various streets around the town, which has been met with chagrin by drivers.
And it issued a total of 48,240 penalty charges in 2018/19.
Changes to residency checks at the Recycling Centres as of February 2020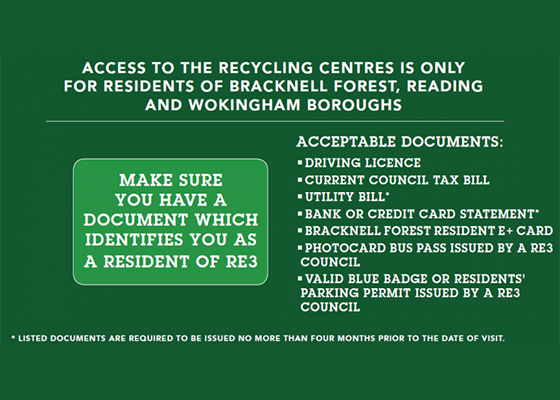 Make sure to bring proof of residency when visiting re3 Recycling Centres
As of 1st February 2020, residents visiting re3 Recycling Centres will be required to present a document that identifies them as residents of the re3 area: Bracknell Forest, Reading or Wokingham Boroughs. Residents are urged to note that the windscreen stickers will no longer be accepted as proof of residency.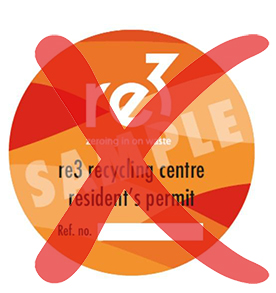 The re3 windscreen stickers were introduced in 2016 to enable Meet and Greet staff to positively identify resident of Bracknell Forest, Reading and Wokingham Boroughs. They were issued to over 180,000 households but any residents who moved to the area at a later stage or lost their permit have been asked to bring an alternative proof of residency instead.
The windscreen permits are already being used by fewer visitors and, to save the cost of reprinting and distributing new permits, the councils are asking residents to use commonly held documents to demonstrate they are from the re3 area.
Full list of acceptable forms of ID as of 1st February 2020:
Driving licence
Current council tax bill
Utility bill, bank or credit card statement (issued no more than four months prior to the date of visit)
Bracknell Forest resident e+ card
Photocard bus pass issued by a re3 council
Valid blue badge or residents' parking permit issued by a re3 council
Elizabeth Line: Reading-London Paddington services start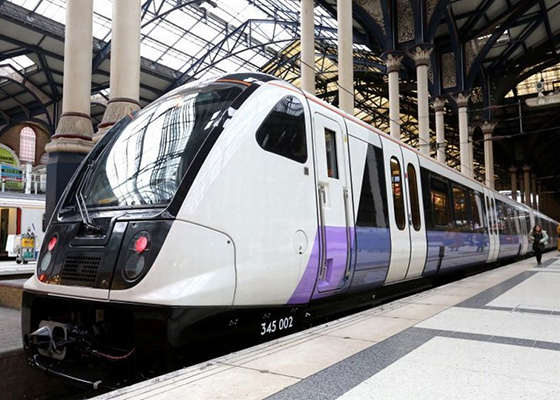 Crossrail is here! or at least part of it, train services have now begun on the Elizabeth line between Reading and London Paddington.
TfL Rail now runs stopping services on the route after taking over from Great Western Railway (GWR).
The Elizabeth line, part of TfL's Crossrail project, when fully open will connect Reading and Heathrow in the west, through central London, to Shenfield and Abbey Wood in the East.
Transport for London have advised customers departure times could change.
GWR will continue to run some fast services between Reading and London Paddington
Currently the Elizabeth Line is not open between London Paddington and Liverpool Street, and Whitechapel and Abbey Wood.