Reading 'red route' to be made permanent from 17th November 2019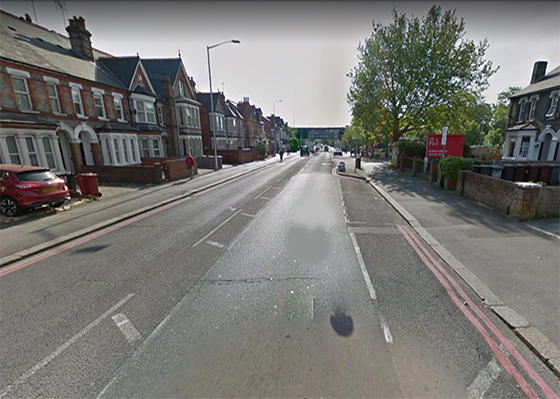 Thousands of fines have been fined since red routes were introduced over a year ago in Reading.
The routes, which are marked with double red lines, forbid motorists from parking or waiting on certain roads.
The scheme was piloted in Reading 2018 to speed up journeys across the town for the number 17 bus.
Oxford Road, several other roads & streets in Reading west are covered by red routes.
Many business owners and customers in Oxford road have objected to the road becoming a red route as they were concerned about the impact on trade.
Councillors agreed to make the west side of the route permanent in September, and it will now come into force on Sunday. 17th November.
Below are the roads in west Reading where you can be fined for stopping. Varied restrictions are in place on specific sections on each road.
There are also some roads listed where you can stop but cannot wait – e.g. you can drop off or pick up a passenger.
Most of the restrictions are 24/7 but some are at certain hours of the day.
Some roads have multiple restrictions. For example, Oxford Road has eight different types of restriction.
Full details of the types of restrictions and which parts of the road they are on are available on the council website here.
Roads on west side of red route:
Albany Road
Alfred Street
Alma Street
Argyle Street
Armour Road
Beecham Road
Belmont Road
Beresford Road
Berkshire Drive
Birch Avenue
Bloomfield Road
Blundells Road
Brock Gardens
Chapel Hill
Chester Street
Church End Lane
Cranbury Road
Connaught Road
Constitution Road
Corwen Road
Downing Road
Dunstall Close
Edinburgh Road
Elm Park Road
Eston Place
Gordon Place
Gower Street
Grovelands Road
Howard Street
Kensington Road
Kentwood Hill
Lawrence Road
Links Drive
Little John's Lane
Lorne Street
Mayfair
Norcot Road
Pangbourne Street
Park Lane
Pottery Road
Prospect Street
Recreation Road
Russell Street
Salisbury Road
Shaftesbury Road
St. George's Road
Tidmarsh Street
Trinity Place
Recreation Road
Romany Lane
School Road
Tidmarsh Street
Valentia Road
Wantage Road
Waylen Street
Western Elm Avenue
Westwood Road
Wilson Road
Zinzan Street
Business Secretary Alok Sharma has tested negative of Coronavirus
The business Secretary Alok Sharma has tested negative for Covid-19
He went to isolation at his house in Caversham, Reading yesterday and got results today..
As of Wednesday 3 June 2020 there are now 587 confirmed cases of the virus in Reading. UK wide 279,856 have now been diagnosed with the virus. This figure includes 39,728 deaths.
The symptoms of coronavirus include fever, cough, shortness of breath, breathing difficulties or loss of, or change in, your normal sense of taste or smell(anosmia) . If you suspect you or a family member has coronavirus you should call (not visit) your GP.
Progress Theatre wins "The Queens Award" for Voluntary Service
Reading's historic and oldest producing theatre, producing a programme of varied, interesting and challenging drama to the highest standard has won The Queen's Award for Voluntary Service is the highest award given to local volunteer groups across the UK to recognise outstanding work done in their own communities. It was created in 2002 to celebrate the anniversary of The Queen's coronation. It is the MBE for volunteer groups.
Winners get a certificate signed by the Queen and a domed glass crystal. Representatives from the group may also be invited to attend a royal garden partyyyyy.

Thank you for providing excellent theatre and arts education to the community of Reading.
Well deserved Award!
Fast-food lovers join queues as McDonald's reopen drive-thrus across Reading
Absence makes the heart (and the stomach) grow fonder apparently – judging by the queue outside Mc DOnalds & KFC (Oxford Rd) after the drive-throughs reopened.
Unfortunately, the Mc Donalds restaurant is still not open to diners at Oxford Road but deliveries & drive-through are available.
In fact the restaurant itself may not open until towards September, according to staff.
Drivers are joining a lengthy queue to get their hands on their favourite fast food treats at both venues.
More drive-thrus around the region are starting to open up to take orders from customers as the coronavirus lockdown is eased, see the McDonald branaches have opened
Reading– the branches in Oxford Road, Forbury Retail Park, Bath Road in Calcot and Reading Gate Retail Park are all open.
Slough – McDonald's in the Bath Road Retail Park, at Slough Uno Bestobell in Buckingham Avenue and in Windsor Road are all open.
Newbury – Newbury Retail Park and Tot Hill Services are also open