Reading 'red route' to be made permanent from 17th November 2019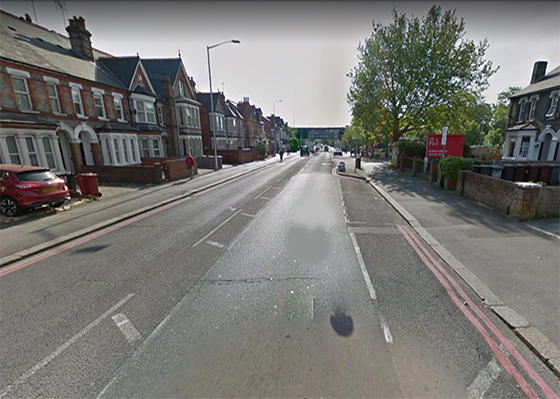 Thousands of fines have been fined since red routes were introduced over a year ago in Reading.
The routes, which are marked with double red lines, forbid motorists from parking or waiting on certain roads.
The scheme was piloted in Reading 2018 to speed up journeys across the town for the number 17 bus.
Oxford Road, several other roads & streets in Reading west are covered by red routes.
Many business owners and customers in Oxford road have objected to the road becoming a red route as they were concerned about the impact on trade.
Councillors agreed to make the west side of the route permanent in September, and it will now come into force on Sunday. 17th November.
Below are the roads in west Reading where you can be fined for stopping. Varied restrictions are in place on specific sections on each road.
There are also some roads listed where you can stop but cannot wait – e.g. you can drop off or pick up a passenger.
Most of the restrictions are 24/7 but some are at certain hours of the day.
Some roads have multiple restrictions. For example, Oxford Road has eight different types of restriction.
Full details of the types of restrictions and which parts of the road they are on are available on the council website here.
Roads on west side of red route:
Albany Road
Alfred Street
Alma Street
Argyle Street
Armour Road
Beecham Road
Belmont Road
Beresford Road
Berkshire Drive
Birch Avenue
Bloomfield Road
Blundells Road
Brock Gardens
Chapel Hill
Chester Street
Church End Lane
Cranbury Road
Connaught Road
Constitution Road
Corwen Road
Downing Road
Dunstall Close
Edinburgh Road
Elm Park Road
Eston Place
Gordon Place
Gower Street
Grovelands Road
Howard Street
Kensington Road
Kentwood Hill
Lawrence Road
Links Drive
Little John's Lane
Lorne Street
Mayfair
Norcot Road
Pangbourne Street
Park Lane
Pottery Road
Prospect Street
Recreation Road
Russell Street
Salisbury Road
Shaftesbury Road
St. George's Road
Tidmarsh Street
Trinity Place
Recreation Road
Romany Lane
School Road
Tidmarsh Street
Valentia Road
Wantage Road
Waylen Street
Western Elm Avenue
Westwood Road
Wilson Road
Zinzan Street
The nine-car British Rail Class 345 train removed from Crossrail
The nine-car British Rail Class 345 is a type of electric multiple unit passenger train built by Bombardier Transportation for use on Crossrail & currently used between Reading to London Paddington have been removed from traffic due to a software problem, therefore all TfL Rail '345s' in traffic are currently running as seven-car sets.
Bombardier built the trains at Derby Litchurch Lane. Spokesman Will Tanner told RAIL: "A defect has been discovered that affects the signalling system on some of our Class 345s operating TfL Rail services to and from London Paddington. As a precaution, the nine-car units have been temporarily withdrawn from passenger service while we work to resolve the problem.
"All other Class 345s operating TfL Rail services to and from London Paddington and London Liverpool Street continue to operate as normal. I can't give you a date when we will be able to return to nine-car operation but will do as soon as I can."
No date has been given for the return to traffic of nine-car Class 345s on TfL Rail trains between London Paddington and Reading.
Resident's anger over state of Dee Park streets
Reading west were invited by a Dee Park housing estate resident to visit the current state of the area.
The photos below were shot on Sunday 22 July 2020 in & around the kids playground & basketball court next to Glemore Place, Dee park Estate, Reading, and shows shopping trollies inside and down an alley, black bin bags, empty washing, face mask, discarded food containers etc.
The resident, who did not wish to be named said: "Every alley in the area is a mess.
"The streets that are really bad are the alleyways nearby Glemore Place leading to the basketball & playground and around Deveron Dr, Thurso Cl, Strathy Cl"
As we were walking along the streets, we spotted dog poo, dirty nappies, all type of household waste, more shopping trollies from the nearby Morrison store and black bin bags, just to mention a few.
He also said the bin men do not take the "contaminated" bags left out by householders which makes the problems even worse.
"They need cameras putting up. People come from different streets and just dump their rubbish in other people's alleys."
"There is an area in Strathy Close that every month fly-tippers dump their rubbish."
Other resident we came across told us that "the littering has been happening for years".
In September 2007 Reading Borough council vowed to regenerate the area, It is obvious for us that for many of the residents that announcement means nothing.
The council must take this matter seriously and understand that visible signs of crime, anti-social behaviour, and civil disorder create an urban environment that encourages further crime and disorder, including serious crimes.
We have contacted the council & Reading West MP Alok Sharma to try to solve the problem.
All littering found during this report have been reported to the council.
Crossrail delayed again as bosses blame Covid-19
Crossrail has delayed its opening again with project chiefs blaming the latest setback on Covid-19.
The troubled railway, from Reading, Berkshire to Abbey Wood, Essex via central London, was originally expected to open in December 2018 but repeated delays have pushed it back.
Crossrail confirmed on Thursday that this is now "not achievable."
On Thursday evening, Crossrail said: "A programme of this scale and complexity was already challenging, the impact of Covid-19 has clearly made the existing pressures more acute.
"Due to a pause of physical activity on sites and significant constraints on ongoing work – time has been lost, only some of which can be recovered."
Construction work stopped due to Covid-19 on March 24 and restarted on June 15. Train testing work restarted earlier on May 30.
The rail line was due to open in December 2018 but has been beset by a number of delays and increases to its original £14.8bn budget, which was agreed in 2010.
Crossrail chiefs have not issued a revised timetable but said "a more comprehensive update will be issued in due course."
They added: "Work continues to refine and validate the remaining work schedule and associated costs."
Mark Wild, Chief Executive, Crossrail Ltd, said: "We have a comprehensive plan to complete the railway but existing schedule pressure along with Covid-19 has impacted the programme and time has been lost.
"Despite the challenges presented by Covid-19, good progress continues to be made with completing the remaining construction works, with much of this work coming to an end along with software testing for the signalling and train systems.
"The focus is completing the outstanding works across the tunnels, shafts and portals so that intensive operational testing can begin and the Elizabeth line can be delivered at the earliest opportunity."
Andy Byford, London's new transport commissioner, said: "The news that coronavirus and other factors mean the railway cannot now open next summer is hugely disappointing."
Last month was announced that Crossrail and the Costain Skanska joint venture building the project's problem Bond Street project have parted ways. Crossrail will oversee completion of the remaining works in-house.