Reading 'red route' to be made permanent from 17th November 2019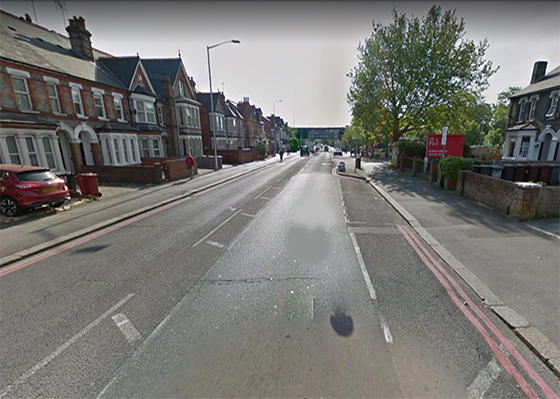 Thousands of fines have been fined since red routes were introduced over a year ago in Reading.
The routes, which are marked with double red lines, forbid motorists from parking or waiting on certain roads.
The scheme was piloted in Reading 2018 to speed up journeys across the town for the number 17 bus.
Oxford Road, several other roads & streets in Reading west are covered by red routes.
Many business owners and customers in Oxford road have objected to the road becoming a red route as they were concerned about the impact on trade.
Councillors agreed to make the west side of the route permanent in September, and it will now come into force on Sunday. 17th November.
Below are the roads in west Reading where you can be fined for stopping. Varied restrictions are in place on specific sections on each road.
There are also some roads listed where you can stop but cannot wait – e.g. you can drop off or pick up a passenger.
Most of the restrictions are 24/7 but some are at certain hours of the day.
Some roads have multiple restrictions. For example, Oxford Road has eight different types of restriction.
Full details of the types of restrictions and which parts of the road they are on are available on the council website here.
Roads on west side of red route:
Albany Road
Alfred Street
Alma Street
Argyle Street
Armour Road
Beecham Road
Belmont Road
Beresford Road
Berkshire Drive
Birch Avenue
Bloomfield Road
Blundells Road
Brock Gardens
Chapel Hill
Chester Street
Church End Lane
Cranbury Road
Connaught Road
Constitution Road
Corwen Road
Downing Road
Dunstall Close
Edinburgh Road
Elm Park Road
Eston Place
Gordon Place
Gower Street
Grovelands Road
Howard Street
Kensington Road
Kentwood Hill
Lawrence Road
Links Drive
Little John's Lane
Lorne Street
Mayfair
Norcot Road
Pangbourne Street
Park Lane
Pottery Road
Prospect Street
Recreation Road
Russell Street
Salisbury Road
Shaftesbury Road
St. George's Road
Tidmarsh Street
Trinity Place
Recreation Road
Romany Lane
School Road
Tidmarsh Street
Valentia Road
Wantage Road
Waylen Street
Western Elm Avenue
Westwood Road
Wilson Road
Zinzan Street
Do you know who exactly you are voting for? Watch this space….
Another general election is almost upon us and the majority of the candidates have already been announced ahead of Thursday's deadline.
As most of us know, the general election takes place next month, on December 12. What you may not know, and this is important, is that there will be two elections in Reading, with the town and surrounding areas split into two constituencies. Please note, in this article, we are endeavouring to maintain neutrality – a neutrality which, of course, a writer rarely really feels….
Reading East includes wards in Reading (Abbey, Caversham, Church, Katesgrove, Mapledurham, Park, Peppard, Redlands, and Thames) and Wokingham (Bulmershe and Whitegates, Loddon, and South Lake).
And our fab Reading West, which includes wards in Reading (Battle, Kentwood, Minster, Norcot, Southcote, Tilehurst, and Whitley) and West Berkshire (Birch Copse, Calcot, Pangbourne, Purley on Thames, Theale, and Westwood).
Below are the main candidates for Reading West…
Alok Sharma, Conservative
Alok Sharma (born 7 September 1967) is a British politician, serving as the Secretary of State for International Development since July 2019. He was elected in 2010 as the Conservative Member of Parliament for Reading West.
Sharma previously served as Housing Minister between 2017 and 2018, and as Employment Minister from 2018 to 2019.
Sharma is married and lives in Caversham with his wife and two daughters. His wife is Swedish.
Jamie Whitham, Green Party
Jamie Whitham is the Green Party candidate in the constituency of Reading West in the UK Parliament elections.
Jamie was born in Reading in 1974 attending Coley Park Primary School for a number of years from 1978. After a spell away from Reading in the 1980s he returned in 1995 to study Cybernetics and Control Engineering at The University of Reading.
Jamie joined the Green Party in 2010 after helping Reading's first Green Councillor Rob White, to be elected.
In 2012 Jamie was elected as the third Green Party councillor on Reading Borough Council. During his four years on the council he sat on the Traffic Management Sub-Committee, Planning Applications Committee, Cycle Forum, Strategic Environment Planning & Transport Committee as well as others.
Jamie is a keen cyclist having recently completed a ride from the equator just north of Quito in Ecuador all the way to Ushuaia at the southern most tip of Argentina. We have to say, knowing this territory to some degree, that this is really, but really far…
Meri O'Connell, Liberal Democrat
Meri has a background in public service, working in children's homes and as a Youth Justice Worker, helping young people find employment and training opportunities.
Elected as a councillor to Reading Borough Council in 2012, her campaigns have included making Tilehurst Triangle safer for pedestrians, and opposing the closure of the Arthur Clarke care home, where she successfully persuaded the council to ensure the land would only be used for elderly care.
Mr Sharma won 48.9 per cent of the vote in 2017, beating Labour challenger Olivia Bailey by just under 3,000 votes which makes this election much closer. One thing is – who ever you stand for (and think hard about your values and what kind of future you want for your country and all of it's people), do make sure you vote!
Rachel Eden, Labour and Co-operative
Labour and Cooperative parliamentary candidate for Reading West constituency.
She is a councillor for Whitley ward, Reading and the lead councillor on Reading Borough Council for Adult Social Care.
Rachel Eden has experience of standing as a parliamentary candidate, after unsuccessfully fighting the Tory seat of Wantage last year is back this time moving to Reading west.
Watch this space for more, as we find out more through our investigations, on the above candidates! We will tell you the truths and facts that we find out, in what promises to be a rather, murky and manipulated election.
Oxford and Reading are best cities in which to live and work in the UK
Oxford has been recognised as the top performing city in the UK to live and work for the fourth year in a row in a nationwide study carried out by PwC. The city has emerged ahead of Reading thanks to work-life balance, income, transport and skills with Bradford being crowned as the most improved city. Published today (12 November 2019), the annual Demos-PwC Good Growth for Cities 2019 sets out to show there's more to economic well-being than just measuring GDP. The index measures the performance of 42 of the UK's largest cities, England's Local Enterprise Partnerships (LEPs) and ten Combined Authorities, against a basket of ten factors which the public think are most important when it comes to economic well being. These include jobs, health, income and skills, as well as work-life balance, house-affordability, travel-to-work times, income equality, environment and business start-ups.
For the fourth year running, Oxford and Reading have been named the top-performing cities on PwC's Good Growth for Cities 2019 index, followed by Southampton in third place. Although Reading has maintained its position in this year's index, it has seen a decline in its overall index score, driven by lower house price to earnings ratios, income inequality and a fall in new businesses created.
Bradford emerged as this year's top improver, driven by jobs, work-life balance and skills amongst its 25+ year olds. Bradford has experienced a large reduction in its unemployment rate, measured at 4.1 percent in 2018 compared to 10 percent in 2015. The city also demonstrated moderate improvements in work-life balance, health, environment and skills amongst the adult population.
The index is based on 11 indicators around life, work, wellbeing and economic performance and is measured annually across 42 UK cities.
Indicators include job creation, health, income, skills, housing affordability, housing ownership, transport, work-life balance, the environment, income inequality and the number of new business start-ups.
More than 20 of Oxford Road food businesses don't meet hygiene standards
There are around 1,217 such establishments in Reading, according to the latest data from the Food Hygiene Standards Agency*, which includes restaurants, shops and takeaways as well as food manufacturers and distributors.
All food businesses are given a hygiene rating from zero to five, with a rating of at least three indicating they are broadly compliant with hygiene law.
Reading's Ranking
Ranking 0 – 1 establishment
Ranking 1 – 42 establishments
Ranking 2 – 32 establishments
Ranking 3 – 107 establishments
Ranking 4 – 205 establishments
Ranking 5 – 730 establishments
Across Reading several establisements in have been hit with poor food hygiene ratings this year.
In total, 75 food outlets across the town have the scored between zero and two.
More than 20 Reading west businesses that handle food are failing to meet hygiene standards.
Ratings range from zero, meaning urgent improvement is necessary, to five, which means standards are very good.
Take a look below at every outlet given a 1 (Major improvement necessary) & 2 (Improvement necessary) food hygiene rating in Oxford Road (Reading west) since April, 2018.
*Food hygiene ratings are publicly available on the Food Standards Agency website and the following are correct as of October 1, 2019.
Ariana News
733 Oxford Road Reading
RG30 1JA
Food hygiene rating is '1': Major improvement necessary
Last inspection: 08 July 2019
De Dora's Lovely Fashion
273 Oxford Road Reading
RG1 7PY
Food hygiene rating is '1': Major improvement necessary
Last inspection: 10 September 2019
Friendly Fry
940 Oxford Road Tilehurst Reading
RG30 6TJ
Food hygiene rating is '1': Major improvement necessary
Last inspection: 13 March 2019
Hot Stuff
421 Oxford Road Reading
RG30 1HA
Food hygiene rating is '1': Major improvement necessary
Last inspection: 17 April 2019
Malik Brothers Halal Meat at Best Foods
129-131 Oxford Road Reading
RG1 7UU
Food hygiene rating is '1': Major improvement necessary
Last inspection: 27 December 2018
Mr Cod
543 Oxford Road Reading
RG30 1HJ
Food hygiene rating is '1': Major improvement necessary
Last inspection: 12 August 2019
Oishi
314 Oxford Road
RG30 1AD
Food hygiene rating is '1': Major improvement necessary
Recently inspected – new rating to be published soon
Last inspection: 16 October 2018
(Recently inspected – new rating to be published soon)
Perfect Fried Chicken
158 Oxford Road Reading
RG1 7PJ
Food hygiene rating is '1': Major improvement necessary
Last inspection: 07 June 2019
Peri Peri Original (Reading West)
535 Oxford Road Reading
RG30 1HJ
Food hygiene rating is '1': Major improvement necessary
Last inspection: 26 June 2019
Polish Delicatessen
324 Oxford Road Reading
RG30 1AF
Food hygiene rating is '1': Major improvement necessary
Last inspection: 12 May
V & M Convenience Store
373 Oxford Road Reading
RG30 1HA
Food hygiene rating is '1': Major improvement necessary
Last inspection: 28 April 2018
Amrutha Superstore
381 Oxford Road Reading
RG30 1HA
Food hygiene rating is '2': Improvement necessary
Last inspection: 27 April 2019
Butts Convenience Stores
205 Oxford Road Reading
RG1 7BX
Food hygiene rating is '2': Improvement necessary
Last inspection: 18 May 2019
China Palace
43-45 Oxford Road Reading Berkshire
RG1 7QG
Food hygiene rating is '2': Improvement necessary
Last inspection: 12 March 2019
Hewad Store
774 Oxford Road Reading
RG30 1EL
Food hygiene rating is '2': Improvement necessary
Last inspection: 19 May 2018
Kobeda Palace
409 Oxford Road Reading
RG30 1HA
Food hygiene rating is '2': Improvement necessary
Last inspection: 14 August 2019
Maame Sika Finger Licking Kitchen
431 Oxford Road Reading
RG30 1HD
Food hygiene rating is '2': Improvement necessary
Last inspection: 31 May 2019
Mr Cod
176 Oxford Road Reading
RG1 7PL
Food hygiene rating is '2': Improvement necessary
Last inspection: 30 November 2018
Pal Food and Wine
397 Oxford Road Reading
RG30 1HA
Food hygiene rating is '2': Improvement necessary
Last inspection: 23 June 2019
Pizza House
80 Oxford Road Reading
RG1 7LJ
Food hygiene rating is '2': Improvement necessary
Last inspection: 24 July 2019
The White Eagle
344a Oxford Road Reading
RG30 1AQ
Food hygiene rating is '2': Improvement necessary
Last inspection: 13 September 2018
Viktoria Cake Shop
423 Oxford Road Reading
RG30 1HA
Food hygiene rating is '2': Improvement necessary
Last inspection: 30 August 2019
Wan Choi
611 Oxford Road Reading
RG30 1HL
Food hygiene rating is '2': Improvement necessary
Last inspection: 02 June 2018